Just finish watching this korean movie. It was very light story and romance, with summer soft lighting. Love it much. I didn't know that the movie was adapted from comic. The artist name is Kang Full - his nickname and we can take a short reading from
here
. The comic drawings are so simple, pretty amazing how they can be so famous. I guess, a strong idea still able to cover the weak execution.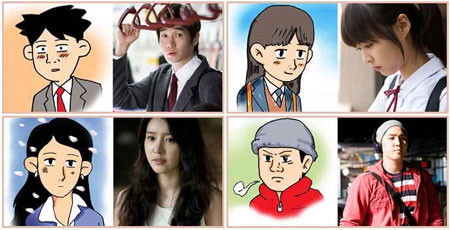 Every scene seems so cute. I like the 30 years old guy character, very adorable for a guy at his age. However the supporting character seems useless in this film. Haha... The Soundtracks are also super-great. Loveeee it!!
Do Listen
.
I have a friend who thinking full of plan about her future, one of it by not getting married too old so that the husband won't be too old when their kid(s) are growing up. Her consideration is that the dad might be passed away before able to see their grandchildren. After watching this movie, i feel more .... simple? I mean, look at the main actor, he was 30, and the girl was only 18. They just enjoy it, not thinking too much which make your life more simple. I just like the "mood, look and feel" the movie brought.